Training programs for mentally safe, fair and respectful workplace cultures
| | |
| --- | --- |
| Posted on 18 March, 2019 at 18:45 | |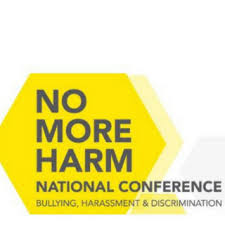 Last Friday was National Day of Action against Bullying & Violence, such an important day, not just for Australian school kids but for everyone; https/bullyingnoway.gov.au/. Next week, staying within the theme I will be attending the No More Harm Conference https/nomoreharm.com.au/ on the Gold Coast. I have attended a couple of these conferences in the past so I'm excited.
The program is jam packed and I can't decide if I'm more excited about Teams in Turmoil: Improving Intra-Team Respect as the Antidote, Attention Please! Will the Bystander Please Stand Up, The Myth of the Bully Free Workplace or, Blaming the Victim and Hiding the Harm – Changing the Culture of Complaints.
As it's been a few years since my last conference, what I am hoping for the most is to hear progressive advice and opinions. Strategies and theories about workplace bullying seemed to fall into a static loop for a while and I am looking forward to connecting with / and learning from, some fresh, innovative thinkers in this space.
If you're a last-minute planner and would like to attend the conference, use the code ROZ19 to register at the early bird discount price.
Categories: None
/