| | |
| --- | --- |
| Posted on 10 October, 2019 at 3:40 | |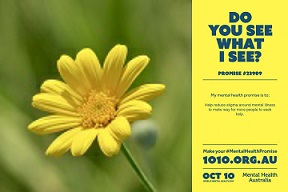 Today is World Mental Health Day and I've made my mental health promise to Help reduce stigma around mental illness to make way for more people to seek help https/1010.org.au/mhp/promise-23843/.


Mental Health is no longer a secret to be kept from the workplace but we still have work to do to make it more visible and to ensure people are safe to disclose if they wish to. Make your own promise here https/1010.org.au/make-a-promise/ and be part of a world-wide movement to improve mental wellbeing in our community. #MentalHealthPromise.


About one in five Australians will experience difficulties with their mental health at some stage of their lives, and if I think of my circle of friends and family there are very few not touched in some way by troubling anxiety, depression, PTSD and other conditions.  These conditions can affect how a person feels, thinks, behaves, and interacts with other people on occasions.  Workplaces, work processes 'the way we do things here', and colleagues can significantly affect a person's capacity to continue (and thrive) in employment.  Mental health and wellbeing awareness takes away stigma, breaks down barriers and equips us with the tools to understand and have better conversations.  It is good to see many workplaces embracing this awareness but we can all do better.  Every person you meet is dealing with their own daily journey and for some that journey is easier than others.  If today your journey is an easy one, reach out, open your eyes, start a conversation, be present — make a difference.


This infographic from SafeWork Australia gives a great overview of the mental health status in Australia, print it out, email it around the office, start discussions.  https/www.safeworkaustralia.gov.au/system/files/documents/1901/mental-health-infographic-v2.jpg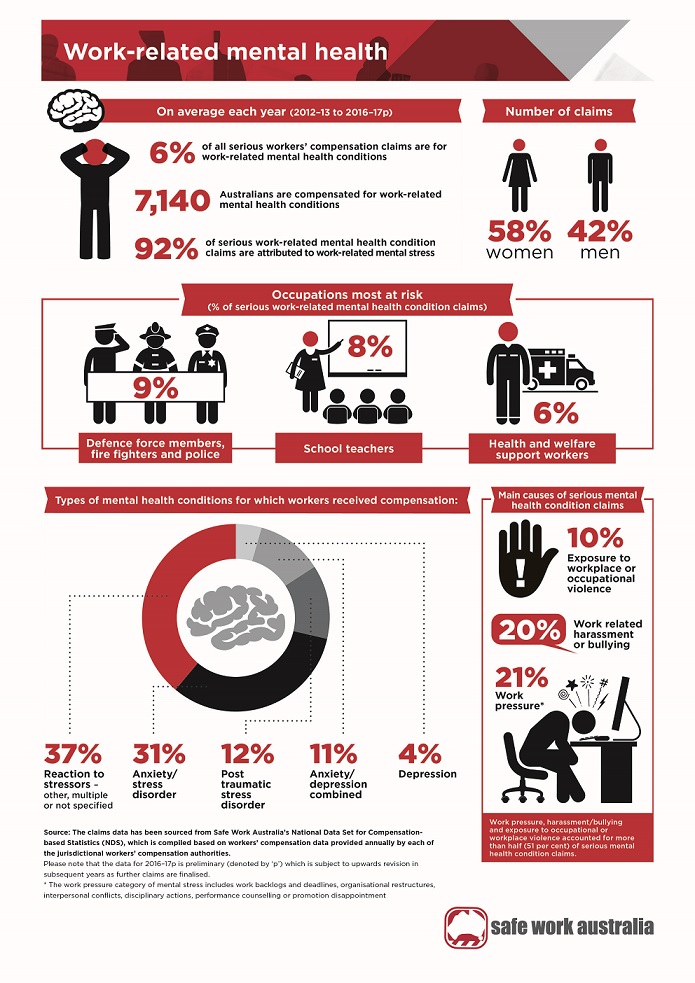 Categories: None
/